Today my niece was watching me do a bit of writing, and asked why I had written a certain sentence. I explained to her that I was writing in a certain style, and we decided to write our own story to practice different styles.
First, I asked her to think up a place, a person, a problem, and a solution. She came up with:
The beach.
Izzy and her uncle.
Crabs were pinching us.
Use a rock to push the pinchers away.
This is the story we wrote: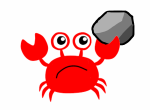 One day, Izzy and her uncle were at the beach. They were having a wonderful time, but then crabs started to pinch them. Izzy said, "Let's use a rock to push the pinchers away!" So her uncle found a rock, and tried Izzy's solution. It worked! They went back to having a wonderful day.
Here's the same story with shorter sentences:
It was day. Izzy and her uncle were playing ball. The ball was at the beach. It was fun. But then there were crabs. They pinched. Izzy said, "We need a rock!" Her uncle found one. The rock stopped the pinchers. Hurray. They played more ball.
Here's the same story again, with me showing off and being extremely silly:
On a glorious summer's day replete with heady sunshine and the kind of breeze that made you pine for chocolate ice-cream under a snow-white veranda, Izzy, aged 5 and her uncle, who was too old to count, were frolicking on a sandy beach that stretched from left to right for miles and miles. They were having so much fun, they didn't even see the hoary legions of crabs that were marching forth-with from the frothy surf. So, it was much to their dismay when the fell crabs began their pinching. Such woe and suffering. But Izzy, aged 5, had a brilliant idea, the likes of which had not been seen on God's green earth since the invention of bread cut into slices sufficient for making toast and/or sandwiches. "Find a rock, Uncle, and put to rest this foul and most horrendous succession of deeds accomplished in a pinching fashion." And lo, her uncle searched the expansive sand-bars and found the perfect amalgamation of stony pebble construction. He pushed it, with puissance and determination, into the pinchers. The crabs were thus thwarted. And so, Izzy and her uncle were able to return to their most joyous adventures of fun-having.
My niece, by the way, is one of the smartest people I've ever met.