I hate Ted Mosby, but let it be known that I do not hate the actor who portrays him, John Radnor. Or Josh Radnor. Or whatever. And this is a valid point, because I do very much like the other actors on How I Met Your Mother. I absolutely adore Alyson Hannigan (who doesn't? I kill them). Neil Patrick Harris is the man. Jason Segel's got chops. I don't know much about Cobie Smulders, but she's good looking, and she's Canadian (I have sort of a thing for Canadians. And Jewish girls. And Indians. Just don't ever introduce me to a Canadian Jewish Indian girl. Just don't).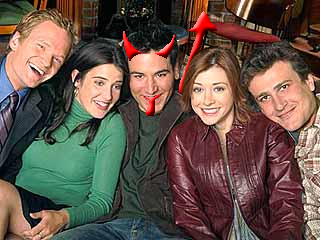 I don't know anything about John or Josh or Jack Radnor. When I Google him, his not-as-Ted Mosby face seems alright to me. So maybe he's the greatest actor of all time. Because when I see his Ted Mosby face, I am filled with hatred. I just don't like that guy. He's smug. He's arrogant. He's lazy. He's a misogynist (oh yes he is god damn it. Maybe you say Barney's the misogynist? At least Barney doesn't fool himself and others into thinking he wants more than what he wants).
Look, I'm not prepared to do a deep analysis of the character, or the show for that matter, because I really try not to watch it. My wife watches it. My sister-in-law and her husband watch it. Everybody watches it. The people who award Emmys watch it. And I'm not saying I'm better or cool or hip because I don't watch this hit TV show. And I'm not trying to be secretly cool by saying I'm not cool. I know I'm a loser. But I'm no Ted Stupid-Head Mosby.
I don't like Glee, either, cause I don't like the singing much, although when they're not singing, when Sue Sylvester's on the screen, that show is awesome. I don't like The New Girl, because it's basically a one-camera sitcom painfully stretched to the multi-camera format. I don't like Up All Night except when Maya Rudolph is on the screen, and of course I admit Christina Applegate is an amazing actress, and c'mon, Will Arnett is a genius, so okay, I do like that show, but I don't like that I like it. I tell you all this so you can contextualize my dislike for How I Met Your Mother based on Ted Please Catch On Fire Mosby.
I also hate the theme song to the show. Which really sucks, for me, because pretty much the whole time I've been writing this, I've had it stuck in my head.
Did you know there's a web site called tedmosbyisajerk.com? It was made by someone on the show, not a real person, so this is the writers themselves saying the man's not worth a small pile of bee barf. Judging from the website's content, it's actually based on an experience someone had with Barney, but that's not the point. The point is, I hate him.
And I am not alone. There's Facebook pages dedicated to hating him, blogs, web content; they call him whiny, a schmuck, self-centered. The word that keeps popping up again and again is "douche." Don't know if I agree with that. I mean, I do– not in the same way Schmidt on the The New Girl is a douche (re: douchebag jar) but Ted Mosby is for sure a douche in that sense of I-don't-like-him-so-every-bad-word-is-okay-to-use-to-describe-him.
Do you hate Ted Mosby? Think carefully. Search your soul, look deep inside your heart. You do, don't you? You watch the show, but it's despite, not because of, Ted Cracker Please Mosby. I knew it.